On April 25, 2018, Emily Youngdahl Wright, a Bahá'í pursuing a Master's degree in Divinity, with a concentration in Interfaith Chaplaincy, at the United Theological Seminary of the Twin Cities in New Brighton, Minnesota, led the Seminary's weekly noontime chapel service. She used the occasion to describe why she was a Bahá'í and why she decided, as a Bahá'í, to become a hospital chaplain, which is a profession open to people who are not clergy. To pursue her goal, in October 2016 she contacted the Wilmette Institute and asked to take up to six Wilmette Institute courses for credit toward her degree at United.
As a result of her initiative, the Wilmette Institute signed a formal agreement with the Seminary in June 2017 outlining the procedure whereby the Wilmette Institute would offer six courses providing a comprehensive overview of the Bahá'í Faith. The seminary grants credit and provides tuition reimbursement to cover the Wilmette Institute's expenses. Emily also arranged for two friends to take a Wilmette Institute course on Bahá'í History. For part of her degree, Emily traveled to the United Kingdom to meet Bahá'í chaplains there and learn about the requirements established by the National Spiritual Assembly of the United Kingdom. Emily completed her Master of Divinity Degree in May 2018 and is now pursuing certification as a chaplain through the Association of Professional Chaplains in the United States. Below is the program Emily planned and the sermon she gave at the Seminary's noontime chapel service on April 25.—THE EDITORS
Sing together
Blessed is the spot, and the house, and the place, and the city, and the heart, and the mountain, and the refuge, and the cave, and the valley, and the land, and the sea, and the island, and the meadow, where mention of God hath been made, and His praise glorified. (Bahá'u'lláh, music by Phil Carlson)
Prayer: read by Cyreta Oduniyi
O Thou kind Lord! Thou hast created all humanity from the same stock. Thou hast decreed that all shall belong to the same household. . . .
O God! . . . Unite all. Let the religions agree and make the nations one, so that they may see each other as one family and the whole earth as one home. May they all live together in perfect harmony.
O God! Raise aloft the banner of the oneness of mankind.
O God! Establish the Most Great Peace.
Cement Thou, O God, the hearts together.
O God! . . . Gladden our hearts through the fragrance of Thy love. Brighten our eyes through the Light of Thy Guidance. Delight our ears with the melody of Thy Word, and shelter us all in the Stronghold of Thy Providence.
Thou art the Mighty and Powerful, Thou art the Forgiving and Thou art the One Who overlooketh the shortcomings of all mankind. ('Abdu'l-Bahá, Bahá'í Prayers 113–15)
Reflections Emily Youngdahl Wright
Possibly the first U.S. Bahá'í to be trained as a professional chaplain
Thank you so much for coming! What a delight to have you here. The two questions people ask me the most are—What led you to the Bahá'í Faith? and Why do you want to be a chaplain? I thought for my senior chapel service I would attempt to answer those two questions. Before I do that, though, I want to say that this journey has been a gift. I feel so incredibly lucky to be alive—in this blessed spot. I am thankful to my family, especially Doug, the Bahá'í community, my friends, teachers, and all of the seminary students who have helped me to grow, articulate what I am trying to do, become more clear about who I am and why I do the things I do—seminary is a very good place to figure out the big questions. I will always be grateful to have been not only accepted but welcomed into this program.
So—what led me to the Bahá'í Faith? I grew up casually Christian—my family sang a lot, and we moved often. We were always the church musicians of the community, so I always went to church. I believed and still believe in God and Jesus. I had questions about the Apostle's Creed—which I shared with my minister during confirmation, and he told me to just memorize it and that I didn't have to believe it. About that same time I met a Bahá'í who encouraged me to keep thinking about what I believed about the nature of Jesus and the nature of God, and he gave me a little prayer book, which I still have. I became a Bahá'í when I was nineteen, the year after my dad died. Before my dad died, he had become an atheist because of things people do in the name of religion.
After he died, I began to wonder more about the soul—because it felt like his spirit was very much alive. I visited churches, temples, and asked my friends from many faith traditions what they thought happened after we die. One day I went to a Bahá'í gathering—and asked my question about the soul—specifically, was my father going to go to hell because he was not a Christian when he died—and one of the Bahá'ís, after telling me that hell is being far away from God and heaven is being close to God, read me this quotation:
Know thou of a truth that the soul, after its separation from the body, will continue to progress until it attaineth the presence of God, in a state and condition which neither the revolution of ages and centuries, nor the changes and chances of this world, can alter. (Gleanings from the Writings of Bahá'u'lláh LXXXI)
I was intrigued. I imagined my father's soul as a little light, moving through the galaxies, on its way toward God. He was such a good person—so passionate about justice, so helpful to others, so artistic—it just hadn't made sense to me that he would be going to hell. The other Bahá'í teaching that caught my attention was the idea that the religions are one—that they all come from the same source, and that they are equal, just as all people are equal. God sends Messengers/Teachers/ Prophets/Manifestations of God to us, has always done that, will always do that—has not abandoned us here to our own devices, "you are not nor shall you ever be forgotten" ('Abdu'l-Bahá, Tablets of the Divine Plan 15)—and that the most recent Messenger is Bahá'u'lláh, whose name means the Glory of God. I became a Bahá'í in my heart that night. Thirty plus years later, I am still a Bahá'í, and am learning something new about the Faith every day.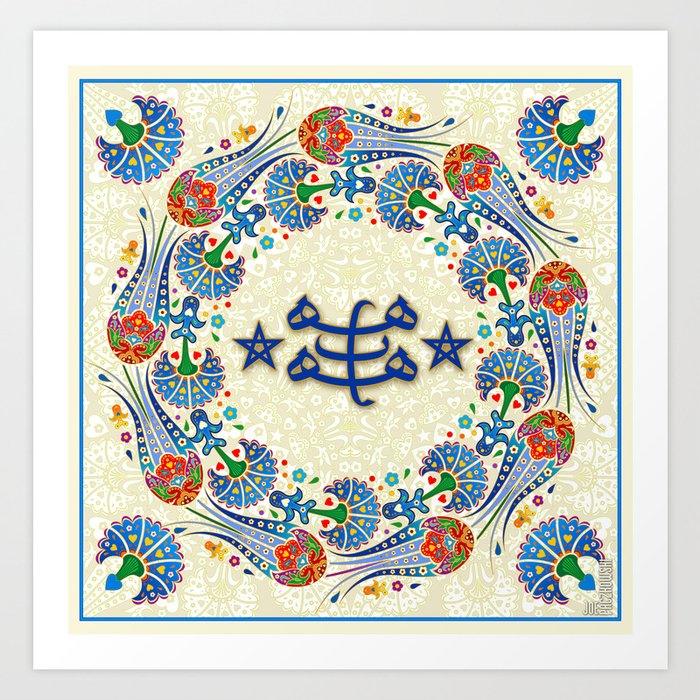 I became interested in becoming a chaplain after I nearly died in 2009 and was visited on several occasions by chaplains in the hospital. At that time, I did not think that a Bahá'í could become a chaplain. The Bahá'í community does not have clergy, and chaplains, in my head at least, were strongly associated with clergy. For work, I was teaching parent-and-family education and leading a community restorative justice project that I had created, that was filled with families who had immense needs that the community tried to meet. A few of the youth in that program died, and then one of their parents died. It was too much for me. I was exhausted. I took a leave of absence from that job and returned to teaching private music lessons. During my leave of absence, I started making dolls and tiny felt pictures. I felt like I was stitching myself and the world back together.
In the spring of 2014, I was in the hospital again, and I wondered if I would ever get better. I had been plagued with stomach aches since I was about three years old—and my whole life I spent a fair amount of time lying down and resting, waiting out the pain. Doctors and specialists over the many years of this illness couldn't find anything wrong and always said it was stress that gave me my stomach aches.
In the fall of 2014, I took a trip to England with my sister, and we went to visit Shoghi Effendi's resting place. He is the great-grandson of Bahá'u'lláh. While I was saying prayers, I decided to ask Shoghi Effendi to help me get better so that I could do more with my life, spend my energy in a way that didn't make me tired. "Aid me . . . to do that which is good" (Bahá'u'lláh, in Bahá'í Prayers 53). When I came home, my doctor sent me to new specialists who discovered a life-long bacterial infection that had affected many parts of my body—and after two weeks of taking a very strong antibiotic, I was cured and free from pain for the first time in my memory. No more stomach aches! I finally had the energy to do more with my life. I threw myself a birthday party that year and invited all of my family and friends to gather them in one place and thank them for keeping me alive.
Ever since I was about two years old, I have had near-death experiences and have been visited by many angels in the hospital, both living and spiritual, and I have been at the bedside with many loved ones as they have died, and have sung at their funerals, including those for my father and my grandmother. In 2015, I sat with my uncle Jon as he died in the hospital, and before and after his death, chaplains came to visit us. They told me that you do not have to be Christian to be a chaplain—and, in fact, one of them was Buddhist. I looked into chaplaincy training again and discovered how similar the code of ethics for chaplains is to the basic core teachings for Bahá'ís of loving and serving all people and not trying to pressure people into converting to your religion: "Consort with the followers of all religions with a spirit of friendliness and fellowship" (Bahá'u'lláh, Gleanings XLII). I discovered that in many ways, as a teacher, restorative justice coordinator, visitor to friends and family who were sick or dying, I was already doing the work of a chaplain. I applied and was accepted in the program at United [Theological Seminary] in inter-religious chaplaincy. The training I have had here, with all of its time for reflection, and the practical, hands-on learning helped me figure out how to do the work without getting too tired.
On May 6, 2018, I will be graduating with a Master's Degree in Divinity with a concentration in inter-religious chaplaincy and Bahá'í Studies. Amazing! As far as I know, I am the first, but hopefully not the last, Bahá'í in the United States to be trained as a professional chaplain. In March of this year I went back to England and visited the Bahá'í chaplains there, whom I met through my studies at the seminary, through the online Bahá'í courses offered by the Wilmette Institute, one of our seminary partners. I visited the resting place of Shoghi Effendi again and said thank you—thank you for the healing, thank you for this amazing journey.
The name Ukulele Chaplain came to me in a dream during my time as a chaplain intern at Fairview Hospital last year. I started writing poems and songs about the people I was meeting and making little flower dollies. And somehow, turning their hard stories into songs, and flowers, filled with uncertainty, with a golden thread of gratitude and courage—that just shone so brightly from so many of my patients, brought me and the patients and their families some sense that our little lives and stories on this earth don't just end with us. It made us happy to hear the music—and it made us cry, too—because life and death are wonderful and terrifying all at the same time.
The Bahá'í writings say: "A wondrous melody is wings for the spirit, and maketh the soul tremble for joy" ('Abdu'l-Bahá, Selected Writings of 'Abdu'l-Bahá 147). To finish my story, I asked this amazing group of friends in Ukulele Drive, to help me sing three of the songs I have written since this journey began. Thank you for listening.
Songs with Ukulele Drive—A New Cup of Grace; Say Goodbye Little Bird; Horseman's Watch
Reading: read by Max Bruberg-Kraus
O CHILDREN OF MEN! Know ye not why We created you all from the same dust? That no one should exalt themself over the other. Ponder at all times in your hearts how ye were created. Since We have created you all from one same substance it is incumbent on you to be even as one soul, to walk with the same feet, eat with the same mouth and dwell in the same land, that from your inmost being, by your deeds and actions, the signs of oneness and the essence of detachment may be made manifest. Such is My counsel to you, O concourse of light! Heed ye this counsel that ye may obtain the fruit of holiness from the tree of wondrous glory. (Bahá'u'lláh, The Hidden Words of Bahá'u'lláh AHW 68)
Sing together: "All shall be well, all shall be well, and all manner of things shall be well." (St Julian of Norwich, music by Emily)